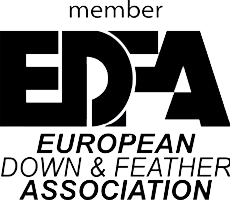 The only Brazilian company that is a member of the EDFA (European Down and Feather Manufacturer Association); Plooma complies with European standards of quality in manufacturing its products.

Just as natural as the need to sleep, some people have difficulty in sleeping and in finding relaxing sleep. An important prerequisite for restoring sleep is a good bed and good pillows preferably with natural materials such as feathers and goose down. The belief is that feathers and goose down cause allergies, when in reality, what really causes the allergy is the "house dust" – mites. The feathers and goose down are materials that provide healthy sleep and a microclimate in the sleep environment (pillows and quilts) that favor perfect rest.

Those with allergies do not need to relinquish the comfort offered by feather and goose down products. These raw materials are regulated in Europe through EN 12934, which can be obtained at:

Beuth Verlag GmbH
Burggrafenstraße 6
10772 Berlin
Germany
Fax: 030 26 01 12 60

Unused pillow feathers and goose down are organic materials and can be recycled and used as excellent biological fertilizer, as well as in the secondary industry of rations and others.

According to studies conducted in Central Europe, many residences, rooms, beds, pillows and quilts were examined and it was ascertained that feather and goose down products are not the preferred habitat for house dust mites. The weather conditions (heating) pillows and quilts provide people (quick accumulation of heat whole the person sleeps and quick dehumidification of the room when aired) are not favorable for the mite's habitat (the causer of allergies and respiratory problems), since mites need damp environments (mildew).

On the other hand, mites feed off natural human skin, proving once again that feathers and goose down are not part of this microorganism's food chain.
Thus, with all the scientific and ecological studies conducted in Europe, it has been proven that feather and goose down products are not foods or the habitat for mites. In other words, feather and goose down quilts and pillows do not cause allergies.

Research:
"Gutachten zur Einschätzung der Relevanz der Bettfedern -(Keratin) Allergie" Expert opinion on the assessment of the relevance of keratin allergy), Prof. Med. Dr. Hofmann, Head of the Pediatric Institute of the University Hospital of Frankfurt am Main.
"House dust mite allergen in pillows", expert opinion of the Wellington Asthma Research Group, Wellington School of Medicine, New Zealand.
"Ökologische Untersuchungen zur Hausstaubmilbenallergie" (Ecological Studies of the Allergy to House Dust Mites), Prof. Dr. Dr. H. W. Jürgens, Anthropological Institute of the University of Kiel.